Xpresso Communications Awarded Best International Full-Service Marketing Communications Company
Fusion of the human and technology side constitutes key point of differentiation
Leiden, The Netherlands _ 2nd September 2019
Xpresso Communications – an international communications and PR company headquartered in Leiden, the Netherlands – is proud to announce that it has been awarded the title of 'Best International Full-Service Marketing Communications Company: Netherlands'.
Xpresso Communications received the Benelux Business Awards 2019 in recognition of the excellence it has achieved in the field of communications, PR and marketing for companies in the Benelux region.
"At EU Business News, our award programme makes sure every company is thoroughly researched, meaning that our awards are only given based on merit and not how many votes have been received," explained Jack Wainwright, Awards Executive, EU Business News. "We investigate many different fields when judging a company, such as dedication to customer service and the excellence and innovation that the company brings to its industry."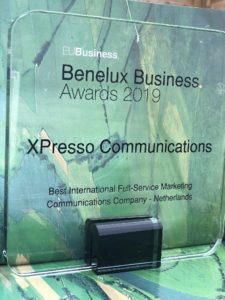 Representing technology firms around the world in the field of broadcast and proAV technologies, the Xpresso team is an international one that excels in delivering creative content that engages with the human aspect of business while demonstrating a deep understanding of the underlying technologies. This fusion of the human and technology side constitutes a key point of differentiation from many other companies in the media and technology industries, which CEO Fiorenza Mella believes was key in contributing to Xpresso's nomination and eventual win.
"My team and I are honoured and amazed by this unexpected award," said Mella. "We were initially researched as an innovative PR and marketing firm in technology-driven markets. However, we believe we were chosen on the basis of our human approach, our expertise and how we support the international launch of start-ups. Also important, we believe, was how we promote innovative technologies through integrated PR and marketing strategies for companies in the international broadcast and proAV markets."
Xpresso prides itself not only on the company's ability to make detail-heavy technology products accessible to non-technical decision-makers, and to foster genuine connections between clients and customers, but also to deliver real strategic advantage by making the process of outsourcing communications truly efficient.
"Increasingly, clients are turning to us not only because they know that our communications philosophy makes real sense in the current business climate, but also because we can save time and effort in planning a coherent and effective communications strategy," continued Mella.
The Benelux Business Awards aim to 'promote award worthy contributions to the economic growth of local, regional, national and international markets', and recognise the roles of Benelux companies as 'beacons of economic hope and prosperity'.
"We're so proud to have been awarded this beautiful trophy by the Benelux Business Awards," concluded Mella, "and we look forward to carrying forward our work into 2020, and seeing what accolades that might bring."
Further information on Xpresso Communications and its services is available at https://www.xpressocommunications.com/ or by calling +31 715238210
# # #
About Xpresso Communications
A PR and digital marketing company providing B2B integrated communications campaigns that deliver brand awareness, international visibility and company growth to vendors in the media, broadcast, proAV and other technology-centred markets.
Headquartered in The Netherlands, the company has operations in New York, Washington DC and across Europe from Cologne, London, Oslo and Paris to Milan. We are content specialists who make our customers' digital marketing and customer experiences remarkable.
We create a wide variety of content including press announcements, blog posts, articles, applied technology pieces, tutorials, case studies, awards entries and so on – all with the goal of supporting your sales and business development initiatives.
The Xpresso Communications team comprises senior communications strategists, digital marketing experts, senior writers with deep experience in technology content, content marketing, social media, brand building and business development.
Xpresso is a proud SCTE and IABM member.
Xpresso Communications Contact:
Fiorenza Mella
XPresso Communications
Tel: +31 71 523 82 10