Creativity Is A Beacon That Drives Us All Forward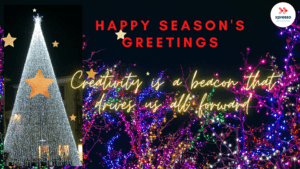 As we look back across the year that has just passed, one thing that strikes is the way that creativity has shone throughout, and continues to be a beacon that drives us all forward. It's nothing new to find that challenging times often sit at the heart of inspiring new ways of thinking and new ways of doing things – after all, necessity is the mother of invention. And yet, even with this knowledge, it still brings joy to us to see our industry peers, clients, friends – and indeed society as a whole bringing ever greater levels of creativity to the things that they do and the ways that they adapt.
So at Xpresso, we will spend the end of this year being thankful for the creative mindset that has led our approach to communications since right back when we started, in 2012. And our New Year's resolution will be to maintain and develop yet further our inquisitive, multi-disciplinary mindset – always pushing forwards to look beyond the practical core of our clients' businesses, and into the creative possibilities that surround and envelope them.
And of course, we'll continue to use creativity to carve out meaningful spaces online where we can share, connect and innovate together. Though of course, our fingers are always crossed for the possibility of us doing that again in person too…
So once again, from all at Xpresso: we wish you a very Merry Christmas, and a prosperous and rewarding New Year!