What's your favourite aroma in Communications?
The history of the coffee break
Coffee is in our name. Not only is it there to represent the Italian roots of our founder Fiorenza Mella, but it communicates key elements of the service we offer; it talks of something fast, efficient and packed with energy, something intense, something undertaken socially, a practical pleasure.

But we are hardly the only business with which coffee is associated. Indeed, coffee is really a mainstay of the corporate world. The idea of a 'World's Best Boss' coffee mug has become a drippingly ironic take on corporate climbing (helped in no small part by the US series 'The Office'), whilst gripes about people taking the last of the coffee and not replacing it represents the major frustrations of the minutiae that make up the daily office grind. And if you haven't watched booths at IBC move from offering a hastily swirled cup of instant Kenco to a fancy Nespresso machine to full blown Barista service, you haven't been paying attention.
But why is coffee so synonymous with the business environment? What is the history of a workplace coffee break?
The origins of coffee itself are often traced back to the legend of Kenyan goats who seemed imbued with energy after eating from a particular plant (and so came the expression 'full of beans'). But Kenyan goats aren't known for taking business meetings.
The idea of the work-place coffee break itself really came around as a result of a confluence of factors occurring at the same time. Industrialisation brought about a more rigidly defined eight hour day, and the opportunity to recharge or rest at midday that was often associated with agricultural work (though the clever Italians and Spanish have still managed to keep a tight grip on their precious lunch breaks – the riposo/siesta). Alongside this, improvements were made in the harvesting and industrial processing of coffee; it became easier, quicker and cheaper to do.
Workers loved the energy jolt that coffee gave them, and employers realized that a small break was actually a boon to overall productivity. Over in the States, organisations such as the 'Pan-American Coffee Bureau' sought to push the interests of coffees with heavy promotion, including the slogan 'Give yourself a Coffee-Break—and Get What Coffee Gives to You'.
Outside of US though, the tradition of a coffee break has been firmly established in a number of cultures. 'Fika' in Sweden is far more than just a coffee (not least because it usually also involves a delicious cinnamon and cardamom bun). It is considered an institution, a ritual, and a state of mind – not to mention a right protected by law. But for others, coffee breaks actually manifest quite differently: up until 2014 in Australia that legally protected right was called a 'smoko' because it was – as you can guess – far more devoted to a quick cigarette, whilst in the UK, it's a sure bet that most of the office are drinking tea!
Xpresso to launch Xpresso Live, an official coffee break

At Xpresso, we're always taking coffee breaks. Because we've been working globally and remotely since long before the arrival of Covid, we knew it was important to keep up with each other, but in a way that wasn't formal or based on some kind of tedious, meeting-based agenda. Casual virtual catch-ups over a coffee have been a great way to stay connected, and the informal nature of them allows people to feel more comfortable being open, creative, voicing ideas and thoughts, and gaining energy from personal connections.
So it was in one of these recent coffee breaks that we realized we should really be sharing this coffee with our wider industry community around us. An informal chat – a way to keep connected, to share ideas, and to keep up with each other both in terms of industry and personal development. Nothing as formal as a Webinar, not an online event – just a way to catch up with those around us, and talk in a more personal and engaged way with our audiences, and the audiences of our clients.
One more Award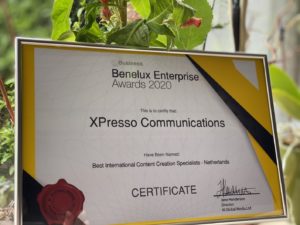 Yes, another reason for a coffee break and more. At the end of September we were awarded the 'Best International Content Creation Specialists' , award for companies headquartered in the Benelux region, granted by the EU Business News Awards panel – which independently assesses the business contributions of firms throughout Europe. This is the second year we've won such a prestigious accolade, and we honestly couldn't be more proud. In particular, we were excited to be able to talk about our latest award; because the best coffee breaks with friends are the ones where you can share your achievements.
Investing in coffee
All of this talk of coffee also brings about an interesting analogy that we've been mulling on for a while. At the beginning of this article we talked about how employers realized that 'investing' in supposedly non-productive time (in the form of a coffee break) actually increased productivity overall. We also talked about how at IBC, the investment in full blown Espresso machines with professionally-trained baristas is now becoming something of a norm. And there's a commonly held idea that if you're interviewing at a new workplace, check out the breakroom and their biscuit selection. No biscuits? – not a chance. A few Jammie Dodgers? hmmm OK. A fully stocked kitchen of healthy snacks, refrigerated drinks, good quality coffee, cake (mmm, cake) and beanbags? There you are.
This 'acid test' for those scoping out a new workplace is basically about assessing the nature of the company; how much do they invest in their employees, in their reputation, in their integrity? How much do they see that a few short term expenses can engender significant long term benefits?
But when times get tough – is the answer to take away coffee breaks and just make employees work even harder, over longer hours? To start offering instant coffee in old chipped mugs to clients, and take away the sexy Nespresso machine? Almost certainly not. That's reactionary, short-sighted, panicky behavior that fails to see the root of the problem. Indeed, if anything, tough times are the times to invest the most in your employees and in the impression you give to clients, because if there is anything that is going to set the ship right, it's that.
So why is it now, when times are tough, some companies are making cuts to their marketing and communications strategies, when now is exactly the time to be investing more in them? When you can't meet your clients in person, the strength of your comms strategy becomes even more vital than ever.
In essence: when you're in need of a serious energy boost, now is not the time to be reaching for the jar of instant coffee – it's time for a super-strength 'Xpresso'.