Xpresso Communications Awarded Content Creation Agency of the Year
for its multidimensional approach to complex and innovative concepts
Leiden, The Netherlands _ 24 February, 2022
Xpresso Communications – an international Communications and PR firm operating out of Leiden (The Netherlands) – today celebrates receiving its latest industry accolade, in the form of the 2021/22 Corporate LiveWire Global Award for 'Content Creation Agency of the year'.
The award, which invites over 90,000 businesses and corporate professionals, magazine contributors and subscribers to nominate companies for consideration, makes an evaluation of candidates based on factors such as quality of service, innovation, experience, sustainability and customer and employee satisfaction. Xpresso were recognised for the overall quality of service they delivered, but noted particularly for their multidimensional approach in relation to content creation and communication of complex concepts.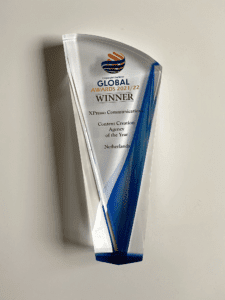 Representing innovative businesses and technology firms across the globe in the field of Broadcast and electronic media technologies, Xpresso maintains an international employee basis that excels in crafting creative content which is based upon maintaining a deep understanding of underpinning technologies, and places a heavy focus on making complex technological concepts accessible to decision makers and non-technicians. The main aim is to put the human dimension at the heart of every integrated strategy, fostering meaningful relationships between companies and their clients that are based as much on trust and shared values as they are on product benefit.
"The Corporate LiveWire Global Awards recognise excellence from all sectors and offers the opportunity for leading professionals and companies who have stood out for being results driven, innovative, and service focused to showcase their expertise, and highlight developments in their industry", said Jake Powers, Editor in Chief of Corporate LiveWire.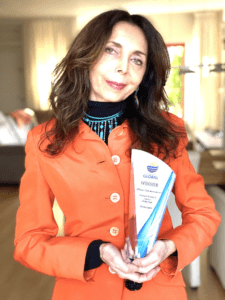 Speaking of the win, CEO Fiorenza Mella said: "Our approach to content creation has always been based on a multidisciplinary research – finding topics and metaphors which resonate with audiences and make complex concepts intelligible. Our team is formed of natural polymaths who are open-minded to engaging with new disciplines and ideas – and it's this that ensures our content is constantly unique and never stagnant. I believe it is these factors which have contributed to our success in the field, and recognition through the LiveWire award".
"We've been fortunate to receive a number of awards recognising our contribution in innovative markets.", added Jess McMurray, senior content strategist at Xpresso Communications, "But what is particularly nice about the Global LiveWire Award is that it also takes account of the internal perspective – using employee satisfaction as a metric for consideration. Thus, the award recognises the open, egalitarian nature of Xpresso's operation: we truly work as a team and are all afforded the same level of respect and input, and rewarded highly for our contributions. The company has an exceptional approach to work/life balance, and by founding itself on a 'Digital Nomad' lifestyle, it not only gives its employees incredible freedom to live differently, but also empowers them to think differently. This mindset provides direct benefit that we can pass on to clients in our work".
Further information on Xpresso Communications and its services is available at https://www.xpressocommunications.com/ or by calling +31 715238210
# # #
About Corporate Livewire
The Corporate LiveWire platform provides business professionals and individuals in the corporate sector with information on the latest news and developments from around the globe.
Available in both print and digital format, the magazine covers practice areas such as Corporate Transactions, M&A, Dispute Resolution, Family Law, IP and many other topics. We also have in-depth content on business trends in industries such as Energy, Healthcare, Technology and Real Estate.
The Corporate LiveWire Global Awards recognises excellence from all sectors and offers the opportunity for leading professionals and companies who have stood out for being results driven, innovative, and service focused to showcase their expertise, and highlight developments in their industry.
About Xpresso Communications
 A multi-award winning PR and digital marketing agency that provides B2B integrated communications campaigns delivering brand awareness, international visibility and company growth to innovators in broadcast and technology-centred industries and to game changers in sustainable markets.
Headquartered in The Netherlands, the company has operations in New York and across Europe from Cologne, London, Bucharest and Paris to Milan. A multicultural team of content specialists who make companies' digital marketing and customer experiences remarkable.
Trusted publishers of  a wide variety of content including press announcements, blog posts, articles, applied technology pieces, tutorials, case studies, awards entries and so on – all with the goal of supporting brands, sales and engagement.
The Xpresso Communications team comprises senior communications strategists, digital marketing experts, senior writers, data analysts with deep experience in technology content, content marketing, social media, brand building and business development.
More info at: www.xpressocommunications.com
Xpresso Communications Contact:
Fiorenza Mella
XPresso Communications
Tel: +31 620618769
Email: fiorenza@xpressocommunications.com