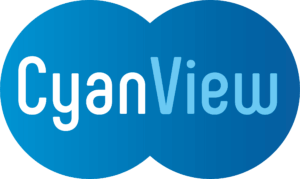 CyanView Add New Functionalities for Distributed Production
For remote control of shading camcorders and specialty cameras
Press Release
Papignies, Belgium— September 1st ,  2022
CyanView today announces the addition of new functionalities for distributed production that are facilitated by their universal Remote Control Panel (Cy-RCP), and will be using their presence at IBC (Stand 10.D31) to demonstrate, when combined with a range of hardware and software interfaces, the remarkable potential of these features in remote (REMI), distributed and cinematic live multi-cam production settings.
The RCP – which sits at the heart of CyanView's range of solutions – represents a universal tool that can be integrated with a substantial list of major camera brands and models operating across all levels of the broadcast market today. With the ability to integrate with a limitless number of cameras – along with both direct controls and external colour correctors, tally and router compatibility for multi-camera touch-down vision preview – the RCP represents an elegant, intuitive and cost-effective solution that meets the demands of vision engineers across the board.
The much-anticipated new iris T-bar joystick also makes the RCP an ideal tool for the control of main cameras on local and remote live productions or wireless applications. When combined with a range of hardware modules, the RCP can be deployed across a range of applications, including specialist camera, fly-away and REMI productions – serving the needs of both large scale organisations and small niche producers who are seeking to use remote camera applications in unusual and streamlined ways, or operating in complex technological or logistical environments whilst still maintaining exceptional broadcast-level image control and output.
For six years, CyanView has been increasing their presence and visibility within the broadcast market, developing into a company capable of supplying the broadcast industry with IP-based, multi-venue, cloud-linked camera shading in a way that simplifies and streamlines both setup and workflows, lowers costs, and provides myriad creative opportunities. They will therefore be using IBC to demonstrate the extensive range of solutions they provide, across mini-cameras, Polecam or gimbal-mounted large sensor cameras, and cinematic setups where external lens control for a range of lens motors is required.
The focus of CyanView's presence will be on demonstrating the extensive number of manufacturers and technologies which can be integrated and controlled through the full range of CyanView solutions, including both niche providers and major industry names supplying cameras, lenses, robotics and 3D LUT boxes and the integration with the recently announced AJA ColorBox facilitating creative shading with HDR conversion and signal correction.
The booth will also have a corner devoted specifically to sports applications; showcasing ways in which CyanView tools have been used to facilitate flexible and efficient production of major American Football, Golf and Cycling events, as well as fashion shows and concerts. Visitors will therefore be able to see firsthand the simplified, streamlined and remarkably flexible workflow control features and low latency UHF, cellular and wifi-based operation of CyanView's controllers, which makes them invaluable for remote and distributed production applications, facilitating colour correction, camera grouping, switcher control, tally and router integrations.
Alternatively, IBC attendees will be able to see CyanView products being deployed practically on the stands of both Imagine Communications (Stand: 2.B49), and Astrodesign (Stand: 2.A48), and through a joint demo with Net-On-Live, which will showcase how a single RCP station can be used as a universal solution that controls multiple remote productions at once, from a single location and device. Finally remote shading and control of Canon and BirdDog robotics with OBE low latency will be showcased.
Speaking of their new distributed capabilities, CEO David Bourgeois said: "The key principle of our technologies is flexibility: our RCP can be deployed in a huge range of contexts – from controlling miniaturised, goal-mounted cameras, to wireless drone cameras, to reality shows using hundreds of PTZ cameras, or simply a system of conventional broadcast cameras being shaded from halfway across the globe. Our vast range of configurations and functionalities that can be achieved are now also available to cinematic productions where both the vision operator and a technical supervisor can access any camera simultaneously from their own positions".
More information about CyanView and its products is available at http://www.cyanview.com/.
CyanView will be showcasing its solutions for both the Broadcast and the ProAV markets at the 2022 IBCShow, Booth 10.D31b.
# # #
About CyanView
CyanView designs and manufactures a universal camera control system consisting of an RCP control panel and small hardware modules to interface cameras, lenses, pan/tilt heads and colour correctors or 3D LUT boxes. The solution improves and simplifies production workflows for the use of specialty cameras on high-end broadcast events, cinematic multicam productions or remote productions. By leveraging IP technologies, CyanView addresses many of the limitations when it comes to camera shading of non-standard cameras, such as large sensors, wireless, mini-cams, drones or PTZ. CyanView's universal RCP controller is designed for vision engineers to achieve the best image quality and operation efficiency.
Today Cyanview's solutions are used on most major events and get increasingly deployed on small flypack setups for cine cameras. Renowned golf, soccer and cycling events also rely on its remote production possibilities.