The Psychology Behind Business Recognition
In business, external validation isn't just… valid – it's essential
Blog by Jess McMurray
Concepts of internal and external validation
In psychological literature, there is a great deal written about 'external validation' and the role it plays in driving our successes and ambitions, and the impact is has on our sense of self.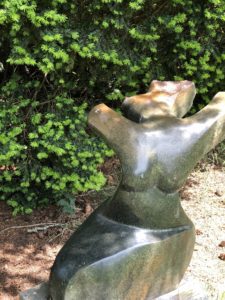 The psychological literature is quick to point out the risks of heavy dependency on external validation. And perhaps it's right to. There are a number of studies suggesting that the rise of social media – and the 'validation' that is associated with looking outside yourself for praise – can be destructive on people's sense of self-esteem, their confidence, and their mental health.
Of course, external validation is about more than just being a 'praise junky'. It's far more than teasing out a grudging 'well done' from someone, or about racking up likes on a social media post. External validation – so far as the psychological literature tells us – is sought by people who aren't able to express complete internal confidence regarding their own path or choices. They don't just want to hear that they are doing something well, they need to know that they are fundamentally on the right path, and making the right choices. It's all-too-frequently associated with needy and insecure people.
Undoubtedly, 'external validation' often gets a bad press.
Certainly, if you take the flip-side of the 'external validation' equation, then there is much to be said for people who are able to maintain a calm confidence in their abilities. People capable of 'internal validation' are secure in themselves, with their temperament and feelings not overly affected by the opinions of others, be they positive, negative, or merely absent. They are confident in setting their own goals, monitoring their own performance, and regulating their reactions accordingly.
Internal and external validation in business
So how does this work in a business context? Whilst as individuals we're encouraged to see internal and external validation as antithesis to each other, with internal validation to be favoured significantly, the same wouldn't appear to be true in the field of business.
Certainly, a clear sense of internal confidence is key to running an effective business. Not so much 'unwavering', but able to stick to your guns when you are confident of your approach, rather than being blown about by fads, trends and blips in the market. Setting your own goals – rather than only seeking to match that of competitors – can be a far more effective approach.
But ultimately, as a business, you have to look outside yourself. Stakeholders may be singular or various, but it is they who matter. Shareholders, competitors, employees and most importantly customers – it is only if these people are truly happy that you know you are on the right path. In business, external validation isn't just… valid – it's essential.
Our own little piece of validation
Where are we going with this particular examination of human and business psychology?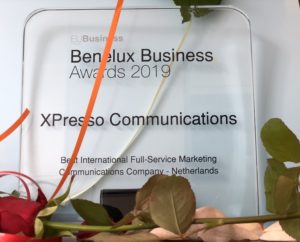 Well, the fact is, we came into possession of a little bit of external validation recently, and we have to admit, we're rather pleased about it. Actually, we're over the moon. As part of the Benelux Business Awards 2019, we have been awarded the title of 'Best International Full-Service Marketing Communications Company _Netherlands'.
Our CEO Fiorenza Mella explains further: " My team and I are honoured and amazed by this business award," said Mella. "We were initially researched as an innovative PR and marketing firm in technology-driven markets. However, we believe we were chosen on the basis of our human approach, our expertise and how we support the international launch of start-ups. Also important, we believe, was how we promote innovative technologies through integrated PR and marketing strategies for companies in the international broadcast and proAV markets."
At Xpresso we've always had a very clear vision. We wanted to approach communications and marketing in a different way. We frequently use the expression 'humanising PR' because we think that at the heart of it – regardless of what technology you're selling – what you're ultimately selling is a benefit to a person. If you're too fixated on talking tech-speak to focus on those two key elements, then you've fundamentally missed the point of communications.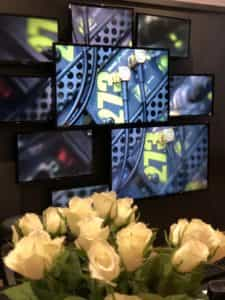 But at the same time, we recognise that the 'tech stuff' truly matters – which is why we've built our team to encompass the full spectrum of technical expertise and content creatives. Their ability to know what they're talking about and communicate it effectively is core to our business model, because it means that we don't just confer strategic advantage through creativity and knowledge, but through the ability to do things efficiently. By truly understanding both the technical and strategic approaches of our clients, briefing us is a simple process, and our content rarely misses the mark (and when tweeks are needed, we're swift and accurate in our alterations). We double and triple check everything, we know the ins and outs of the PR process, and we put a personal stamp on the deeply technical.
As a result, pursuing our own internal validation has always been very important to us. To a large extent we are guided by our own conscience, by our own principles, and a very confident sense-of-self. We have an inherent feeling when we are doing right by our customers, and right by ourselves. We regulate our own goals, and believe it's important to monitor our performance with reference to ideology as much as bottom-line profits.