It has been used to describe young people driving political change.
The 2017 Women's March in London
Image: Matt Crossick via PA Images
YOU MAY NEVER have heard the words "youthquake", "antifa" and "broflake", but according to Oxford Dictionaries, they are the words that defined the year 2017.
It has announced that "youthquake" is 2017′s word of the year, reflecting on a climate of deepening political unrest.
The term is defined as "a significant cultural, political, or social change arising from the actions or influence of young people".
The word was first coined in 1965 by Vogue editor Diana Vreeland who used it to describe the post-war period of tumultuous change in fashion, music and attitudes.
It has seen a 400% increase in usage between 2016 and 2017, with Oxford Dictionary saying that it has been used to describe young people driving political change.
Youthquake's use in Britain first built momentum this year in the wake of the June general election, when young voters almost carried the Labour Party to an unlikely victory.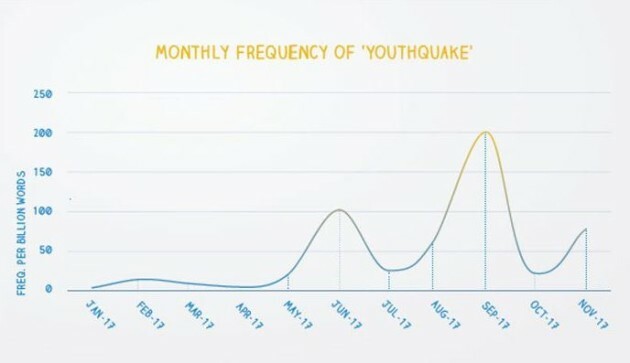 Source: Oxford Dictionary
Oxford Dictionaries said the word sounded a note of hope following what it described as a "difficult and divisive year".
"We chose youthquake based on its evidence and linguistic interest. But most importantly for me, at a time when our language is reflecting a deepening unrest and exhausted nerves, it is a rare political word that sounds a hopeful note," Oxford Dictionaries president Casper Grathwohl said.
Sometimes you pick a word of the year because you recognise that it has arrived, but other times you pick one that is knocking at the door and you want to help usher it in.
"I think it's time for a word we can all rally behind. A word we can root for and collectively empower as the word of the year," he said.
Other words shortlisted for Word of the Year 2017 include:
Antifa
Broflake
Gorpcore
Milkshake Duck
Newsjacking
Unicorn
White fragility
The 2016 Word of the Year was "post-truth", chosen in light of the Brexit vote and Donald Trump's victory in the US presidential election.