AssiaX to Disclose the Winners of its First Global Design Award 
Architect Teresa Carrau won the Enlighten & Reflect Design contest
UK, London — 12 May, 2022
AssiaX today discloses the winning design of the Enlighten & Reflect Design Award 2022, its first global award addressing female up-and-comers in the industry.
AssiaX is an initiative inspired by the G100 Design and Lifestyle, a chapter of the Global G100 Network that connects and empowers women and young talents in numerous disciplines. Started in October 2021 by Annabella Nassetti and Fiorenza Mella, AssiaX aspires to expand on the G100 network activities by taking any creative process to a higher level, by turning any idea into a product. Global contests and educational conferences are organized to inspire collaborative work while providing young female designers, architects and engineers with international visibility and business opportunities.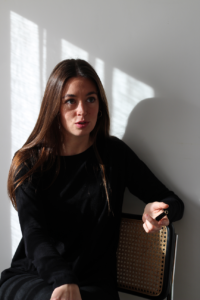 Teresa Carrau's design was recognised for its excelling interpretation of the contest, the tech-lighting factors and its cost-conscious approach.
Carrau, a Valencia-based architect specialised in conservation, stated: "It was a challenging project but I am glad I took the opportunity to participate in this international award". She then concluded: "I have tried to work with the natural properties of an ecological and beautiful material. The fact that the lamp was actually going to turn into a real product was especially motivating. I'm truly grateful and I honestly did not expect I would be chosen among so many talented participants".
The participation in the contest that was announced in December 2021, was open to young talents, students and graduates in Design, Product Design, Interior Design, Architecture, and Engineering and aimed at challenging the participants in thinking of a real product. The destination of the winning design was then announced to be eighteen 260mᶟ foyers of Arborea Living, one of Milan's top Eco-conscious 700 units 66,000m2 residential development and it would be part of a limited collection to be produced by Nemo Lighting, one of the world's leading companies in the field of lighting design.
Arborea Living is a community project based in Monza, on the outskirts of Milan, which will see over 1200 people come together in a sustainable living initiative that aims to promote unity between the built environment and nature, and provide services which enhance quality of life for families regardless of income. The core features of the project will be the provision of 700 family flats, incorporating a range of services – including city shuttle, car charging, concierge and package storage – whilst ensuring absolute congruence and harmony with the natural environment around.
The winning product will be showcased in Milan during the 2022 MILAN DESIGN WEEK (June 7– 12), the most renowned world-class event for the design industry.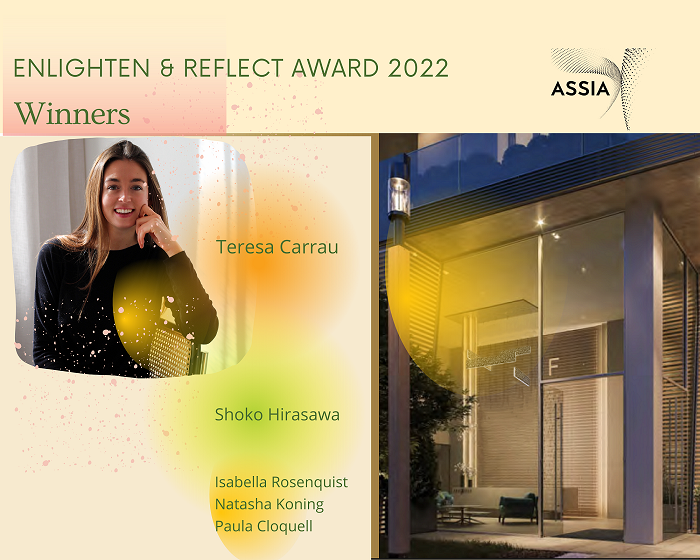 Considering the high-quality of the designs being submitted, the jury decided to recognise a second best project created by Tokyo-based lighting designer Shoko Hirasawa and a third best design submitted by Natasha Fonseca Koning, Paula Cloquell and Isabella Rosenquist, three young Amsterdam-based product designers and industrial engineers who opted for a collaborative design.
Speaking of the outcome, Annabella Nassetti said: "The jury, Fiorenza and I, enjoyed receiving entries from all parts of the world. Different backgrounds, cultures and styles". She continued: "It has been quite challenging to choose a winner among so many different highly skilled participants. Teresa Carrau managed to conceive a design meeting all the requirements and deliver an objectively amazing aesthetics. We thank all the participants and look forward to our next contest".
More info about the Award can be found here: https://assiax.com/
# # #
About AssiaX
In October 2021 Annabella Nassetti started AssiaX with Fiorenza Mella to support any non-profit project conceived by young talents. AssiaX is the business evolution of the global G100 Design & Lifestyle that aims at taking any creative process to a higher level while turning the most innovative ideas into products. From proof of concept to realisation, from global networking to materialisation of ideas.
Annabella Nassetti, Global Chair of the G100 Design and Lifestyle, is a 20 year-experienced interior architect and product designer, who has also excelled in designing solutions for many exclusive properties in London. Annabella is the only UK interior designer able to offer an in-house construction service. Born and raised in the world's design capital, Milan, Annabella Nassetti comes from a family of designers, and this deep-rooted expertise is always present in her own work. In 1998 Nassetti founded A Living Concept, an international atelier that specializes in turn-key projects from interior design through project management to construction. This integrated, cost-conscious and efficient approach delivers the ultimate home – one that is ingenious and innovative, where core ideas of comfort, beauty and functionality play a key role.
Fiorenza Mella, Chair of the G100 Design and Lifestyle in The Netherlands, with over twenty-five years' international marketing, communications and business development experience, is a linguist and a digital technologist. In 2012 she founded Xpresso Communications, a multi-award winning PR & Marketing agency focusing on branding innovators in technology-driven markets and creative industries through integrated communications strategies. Fiorenza is the creative mind of successful campaigns for the launch and growth of numerous businesses as well as the strategic voice of several social media accounts.